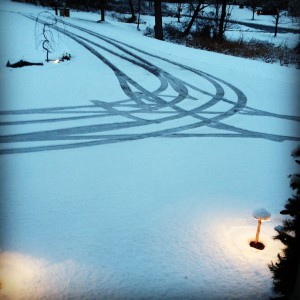 Each fork in the road of life takes you in a direction.  You choose a path and then you keep moving forward.  How does one make the choice?  Is it divine intervention?  Is it fate?  How much of it is a conscious decision?  What if you had taken another path?  Would you still have arrived at the place you are today?
Somehow, I cannot imagine being anywhere else.  Not because I lack imagination, but because 'here' feels so right.  Even if the path I have taken has been circuitous, and steep at times, it led me to the beautiful place where I am now.
Looking back through the years, I was presented with so many forks in the road, I don't know why I chose one path over the other, at times reluctantly and other times it just seemed natural.  There were even times when I had to put one foot in front of the other just to keep moving.
It makes me think… what if I had made different choices?  Where in the world would Andrea Dias be now?  But even if its imaginary, I can't bring myself to walk down that path.  I've met so many special people along my journey here.  My husband Shekhar, my Skipper, my Ralphie, my very special friends, (you know who you are) were meant to be part of my life.  I would not even want to imagine my life without them.
And then there is my Shane and my Marissa.  I know I was born to be their mom.  This could not have happened if I was not right where I was when it was their time to come to me.  And yet… if they were meant to be mine wouldn't we have gotten together somehow?  Who knows?  But I know the long road that I took brought me to them, so it was the right one.  Difficult and emotionally exhausting though it many have been, I would not have exchanged it for anything in the world.  For every turn I took, every dead end, every fork, every long stretch, whether through barren landscape or lovely seaside, was exactly the road I needed to take to be here, right here.
Like the Rascal Flats song… "This much I know is true, That God blessed the broken road
That led me straight to you"… to all of you… and I'm right where I belong.